Women can be divided into two types – these who love sweets and these who prefer salty snacks. One and the other treat for your palate, not necessarily have favourable impact on skin, hair and nails condition. Let's take a look at sweets. This sweet feast is an enemy to your skin due to enormous amounts of sugar. Should you limit sugar in your diet?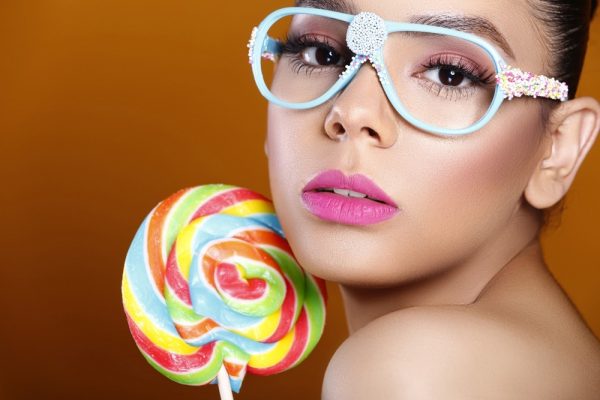 How many times your mum told you that sweets are bad for your teeth? A lot, we presume. Even tough it is difficult to imagine quitting them, especially when they are everywhere, you should limit them in your diet. It will be a good thing for not only your teeth, but also your skin. Do you want to know what a bad impact sweets have on your skin's condition? Read more about it.
Sadly, our skin does not like simple sugars. In our diet these are redundant load for the organism. Ingesting excess amounts of simple sugars leads to skin losing its elasticity and firmness. High glucose levels in blood may even lead to the so-called, Glycation of collagen and elastin fibres. As a result proteins in skin are damaged. They become stiff and lose their natural elasticity. How does it look like in practice?
First symptom is worsening skin condition. It is easier to experience difficult to get rid of blackheads. The fact that some women complain about skin impurities after spending their evening over chocolate is a frequent phenomenon. This is just how sugar works in the organism.
However, this is not the only drawback of eating sweets. Simple sugars speed up skin ageing. Unfortunately, sweets in the diet shorten the youth of your skin. They make face experience even 50% more wrinkles. Why? Sweets generate free radicals, that in anti-ageing treatments you want so bad to get rid of. To sum up, even the best anti-age cream will not help if you keep eating so much chocolate.
Diet rich in sugar is poor in antioxidants. In a chocolate muffin are rather no vegetables or fruits, so there are no vitamins and minerals. By basing your diet on sweets, you only deliver your organism with unnecessary calories, harmful simple sugars and other redundant stuff. This will never complement the deficits for nourishing substances in your skin.