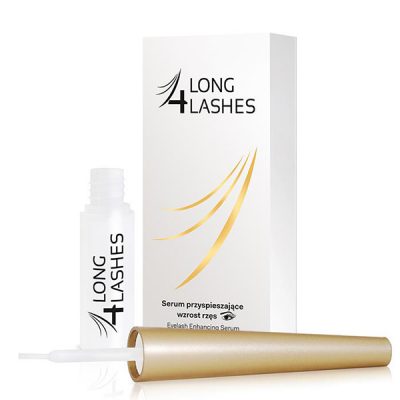 This serum is designed for people who want to have longer, thicker and stronger lashes. Thanks to special active ingredients, Long 4 Lashes growth serum improves their condition. This is an effective preparation for the growth of eyelashes. It improves their condition, lengthens and thickens. The idea is to stimulate the growth of eyelashes, even if they are completely lost, for example as a result of a disease. The effects of L4L are not so intense. It can be used also for the care of eyebrows.
Long 4 Lashes growth serum has a distinctive design. The bottle of the product is similar to those of liquid eyeliners – wider at the bottom and tapering towards the top. White-and-gold colours make the serum look good. The only version available is the capacity of 3 ml. The formula is rather standard – colourless and smooth. It must be applied with a thin brush with stiff synthetic bristles.
You can observe the difference in the appearance of your eyelashes after 3 weeks, and after 6 weeks your look will be quite altered. The reviews suggest, however, that it is not true in all cases. Long 4 Lashes growth serum used regularly regenerates lashes, but the process is very slow. The use requires regularity (every evening) and it must be applied as directed (to the lashline on cleansed and dried eyelids).
What does affect this evaluation negatively?
○ It works very slowly and does not give long-term effects.
○ The time required to notice effects is longer than specified.
○ Does not work hard enough to restore lost eyelashes.