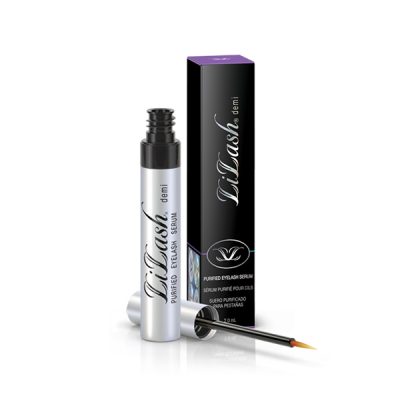 Silver eyelash growth serum from Lilash proves that magic exists. At least, such action of the serum is specified by the manufacturer. The product stimulates the growth of eyelashes and curls them. Pure formula works on the surface and within the eyelashes. It provides nourishing, moisturising and strengthening effects. As a result, eyelashes become longer and visually increase their volume. It will not be as effective for everyone. This is confirmed by numerous opinions in which Lilash eyelash growth serum is assessed as average.
The old version of this eyelash growth serum presented a mixture of colours. Unsuccessful combination of pastel purple and blue has been changed to black with subtle inserts of colours. Now, Lilash eyelash growth serum looks more elegant. The bottle remained unchanged – plastic in silver colour. The applicator is a standard, thin brush. It is easy to gain the right amount of colourless liquid serum. Lilash serum is available in two capacities.
The smaller packaging of 2 ml is sufficient for three months of regular use. Lilash eyelash growth serum in the version of 4 ml is enough for approx. 6 months. Unfortunately, the price of the product is extremely high. It does not pay, even though a good performance. Serum is to be applied to cleansed eyes at the base of the eyelashes. Eyelash growth serum has to be applied once a day. Regularity is very important as well as following the rules placed on the leaflet and adapting to contraindications to avoid any adverse reactions.
What does affect this evaluation negatively?
It costs far too much, the price is inadequate.
The plastic bottle is not very well made.
There are contraindications to the use of the product.
incorrectly applied serum can cause discomfort.