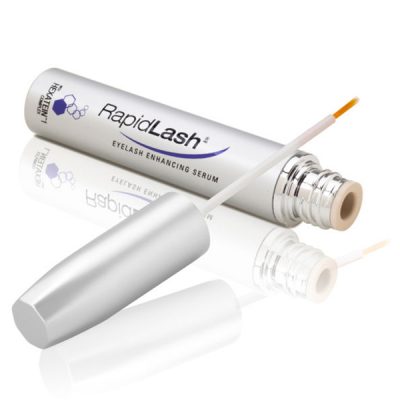 Without a doubt, Rapidlash products are effective. Professionals, however, do not believe that Rapidlash eyelash growth serum is the best product in this range, available on the market. This innovative formula contains patented Hexatein Complex, pumpkin seed oil and soybean oil extract. These components are designed to improve the appearance of lashes. With regular use, they will become healthier and stronger. Only after a long period time, you can notice their subtle growth. Moreover, RapidBrow is designed to thicken your eyebrows – a product of the same series. Therefore Rapidlash eyelash growth serum is not recommended for use on eyebrows.
The plastic bottle contains the standard amount of product. 3 ml eyelash growth serum from Rapidlash looks rather average. It is maintained in matt silver colour with small accents of purple. The product is enough even for half a year, but it all depends on the applied amount and frequency of application. Opinions indicate that the time may be even half shorter than that. What is more, the efficiency of the cosmetic might also be lowered due to a too wide applicator.
When using this product, you encounter the standard way of application. Eyelash growth serum should be applied only on thoroughly cleansed and dry eyelid. All the impurities can interfere with its work. This clear and watery eyelash growth serum from Rapidlash will be effective only if used constantly everyday. You should apply it every evening after removing your make-up. Always along the lashline from the inner to the outer corner of the eye, making sure that the serum does not get into your eyes.
What has negative effects on the evaluation?
Variance between indicated and actual efficiency
According to the opinions, there is no guarantee of satisfactory results.
Not suitable for eyebrows, there is a separate product especially designed for eyebrow care
The brush is not accurate, so there is the risk of getting serum into the eye.