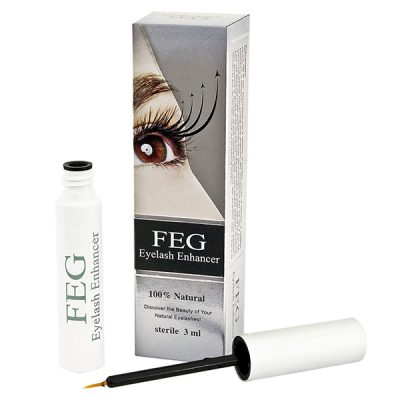 An eyelash growth serum with the set of specially selected ingredients that nourishes and strengthen eyelashes. It is said that the product stimulates the growth of eyelashes and prevents excessive lash loss. However, this is not possible due to the fact that the loss of eyelashes is related to the natural course of their lives. FEG eyelash growth serum can strengthen lashes at the base and ensure maximum lifespan. After about 4 weeks of regular use of the product, lashes improve their length and recover. In the initial stage, they may fall out more than usual, but this effect passes quickly.
FEG eyelash growth serum has a standard capacity, and 3 ml is sufficient for about 5 months of treatment. This period of time may be reduced if we impose too much of the product or do it too often. Unfortunately, it often happens that the brush takes too much serum, which significantly reduces the efficiency of the product. Plastic bottle in shades of white and grey is not very impressive.
Theoretically, FEG eyelash growth serum has a number of plant extracts and vitamins. Unfortunately, you will not find anything like that in the composition and whatever is there, you cannot call natural. It is a very dense serum, so that it does not flow to the eye and is easy to distribute along the lashline. It is best to apply FEG eyelash growth serum in the evening, immediately after a thorough make-up removal. Make sure your eyelids are completely dry. The product does not cause any allergic reactions and is safe.
What does affect this evaluation negatively?
It does not contain any plant extracts as it is advertised.
Nothing secures the bottle, you can easily take too much serum.
Eyelash loss inhibition is not confirmed by consumers.
In the initial phase of treatment there is excessive eyelash loss.