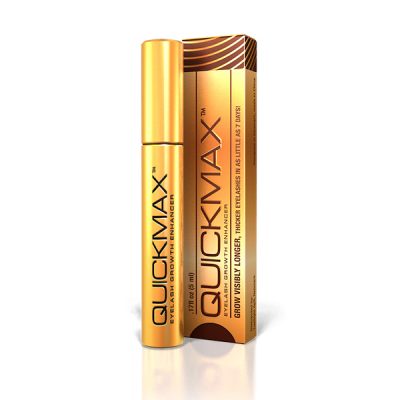 The product is intended for the care of eyelashes and eyebrows. Quickmax serum stimulates the growth of hair, thickens it and gives eyes expressiveness. The formula of Quickmax eyelash growth serum was developed to provide complex care. Not everyone reaches such fabulous results, which are described on the official website of the product. Quickmax eyelash growth serum's effectiveness depends on many factors – the correct application, frequency of application, the susceptibility to active ingredients. The product is based on natural ingredients that do not provide intensive action.
When it comes to the appearance, this serum differs from other products in this range. This is not necessarily a positive differentiator. Quickmax eyelash growth serum comes in an intensely golden, plastic bottle and cardboard box in the same colours. The packaging is shoddy. The product is bigger than a standard one, it has the capacity of 5 ml. The bottle is equipped with a typical applicator in the form of a tin eyeliner brush. The cosmetic is colourless, semi-solid and there is no distinctive odour.
Moreover, serum must be applied to the skin of the eyelids, and not on the entire eyelashes. Unfortunately, the brush is not top quality, but makes it easy to apply the product. Quickmax eyelash growth serum must be used every day. The first results should appear within a week., the final results – after 4-6 weeks. It will not work on heavily weakened eyelashes, which firstly require regeneration. A month is not enough to notice spectacular change.
What does affect this evaluation negatively?
The colours and the plastic bottle looks cheesy.
Real time of the appearance of the effects may be different from the one indicated.
Serum does not provide intensive and thorough action.