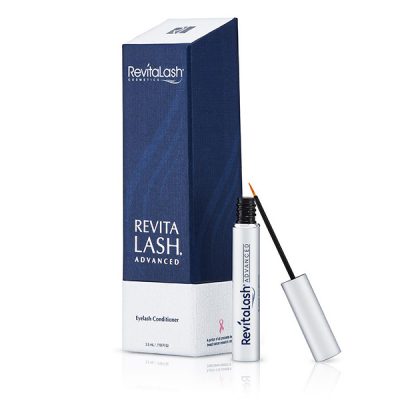 The product stimulates eyelash growth, which improves thickness and volume. Revitalash eyelash growth serum used regularly beautifies lashes and restores their health. The new formula of Revitalash Advanced contains active molecules, vitamins and plant extracts rich in antioxidants, including green tea, marigold, ginkgo and wheat. Natural ingredients do not mean that Revitalash is suitable for everyone. There are contraindications to its use.
One of the more popular eyelash growth serum looks rather average. Revitalash serum comes in a white-dark blue cardboard box, with a silver bottle. The size of the bottle depends on the capacity. Revitalash eyelash growth serum is available in three versions – 1 ml which is enough for about 7 weeks of treatment, 2 ml for about three months, or 3.5 ml sufficient for up to six months. Nevertheless, many people claim that selling 1 ml of the product seems useless. In such a short period of time it is impossible to achieve maximum results.
Revitalash eyelash growth serum is dense and very concise. This way it does not drip into the eye. Such formula, however, lowers the efficiency of the cosmetic. Thin brush may take too much serum which leads to wasting too much of it. Especially that the application must be repeated every evening after removing make-up. Revitalash eyelash growth serum is to be applied in a small amount to thoroughly cleansed eyelid along the lashline. The effectiveness depends primarily on systematic use.
What does affect this evaluation negatively?
the price of this eyelash growth serum is definitely inadequate to the effect.
dense formula that reduces efficiency and hinders the application.
selling a product of 1 ml capacity makes no sense.
many contraindications to use, despite natural ingredients.