Are you still looking for the best heat protectant for your hair? They all seem too heavy and overburdening? Read on about a Nanoil's heat protectant spray which doesn't leave a greasy film on the strands because it's super-light and easy to remove. This unusual hair primer not only protects from extreme temperatures but also nourishes and delivers smoothness.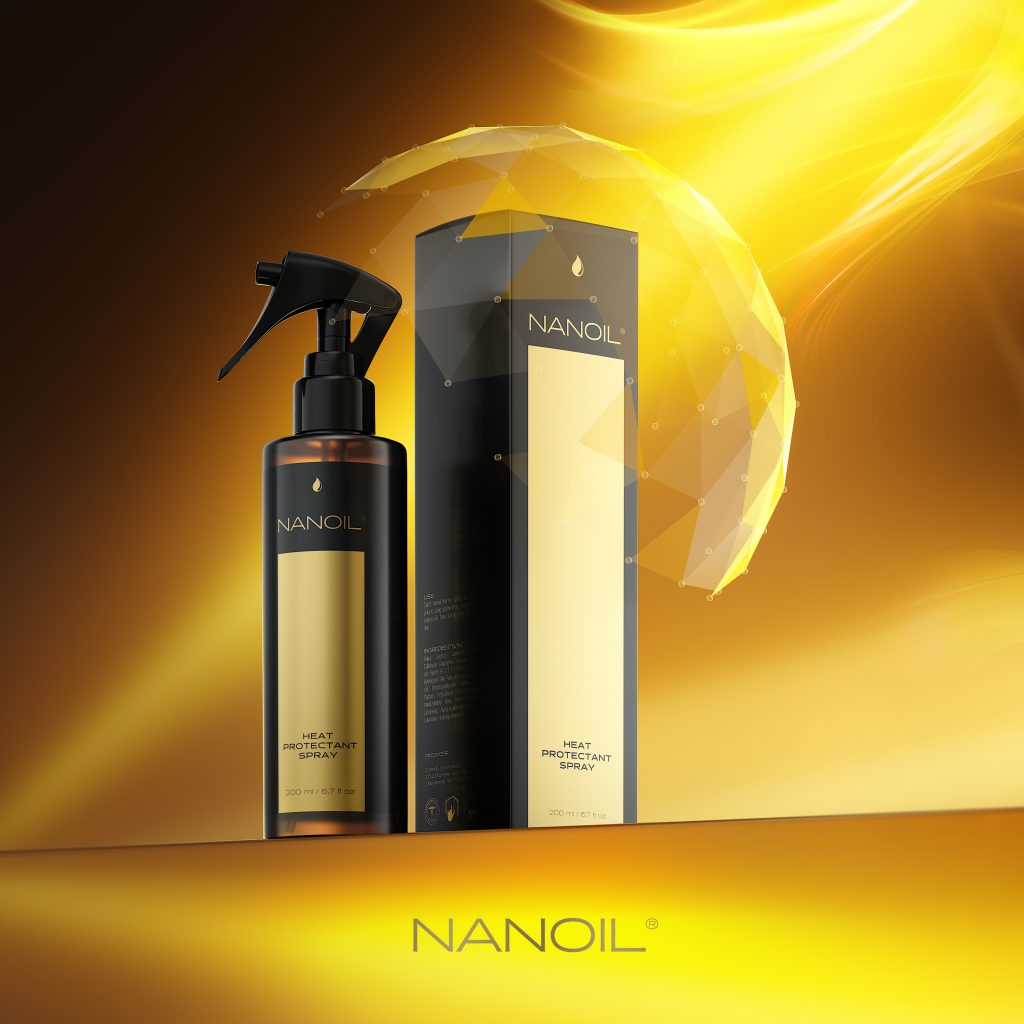 Nanoil Heat Protectant Spray – give your hair what's best
Your hair deserves effective thermal protection. After all you're not going to give up on blow-drying in the morning when you're in a hurry trying to make it to work. If your strands are frizzy and unruly then you won't give up on a straightener or curler either. Unfortunately, the heated devices or hot stream from a dryer are the top enemies of our hairdos, making them brittle, coarse, not feeling nice for sure. To prevent that you need to choose a Nanoil's heat protectant. This spray contains substances that bring many benefits. The major ingredient is hydrolyzed silk which holds water inside of hair, keeping it smooth and nourished.
Extraordinary heat protection from Nanoil
The weightless heat protectant from Nanoil is good for every type of hair no matter if it's high or low porosity. It will prove a life-saver even if your strands are heavy, unmanageable or curl-resistant. Spraying it on dry or damp hair before a styling routine is all it takes to create a nourishing and protective coating which won't weigh your hair down. The product guards against very high temperatures (getting to 430 degrees!). This exceptional item not only protects but also makes sure your mane looks its best by restoring healthy shine and preventing dullness from the sunlight (a perfect choice in the summer). There's more, though! The cosmetic stops frizz and static so you don't need to worry about flyaways.
The Nanoil's thermal spray – full protection
The product won't weigh your hair down because water is its base ingredient. You won't find any needless substances in the INCI because the formula is simple and clear. The spray adds volume and shine to hair which gets smooth and nourished so you can boast a dream style all day. Natural silk proteins make the hair color last, as well as repair and strengthen the hair.
How to use the Nanoil Heat Protectant Spray?
Another thing that users love about the Nanoil's thermal spray is an applicator which sprays the product easily. The application is both trouble-free and pleasurable! The 200-ml bottle lasts a very long time. The Nanoil Heat Protectant Spray smells lovely too. It makes the styling routine go smoothly, detangles, adds softness and smoothness, and has multiple functions. Thermal protection with Nanoil takes a moment! If you want to learn more, go to www.nanoil.us – the official site where you can order products creating your special hair care kit. Take care of your hair with Nanoil!