The richness of vitamins and fatty acids. Natural and golden color. Hazelnut oil is not just an interesting addition to your kitchen but also given to us by nature – cosmetic. What should you know about its properties and action on hair and skin?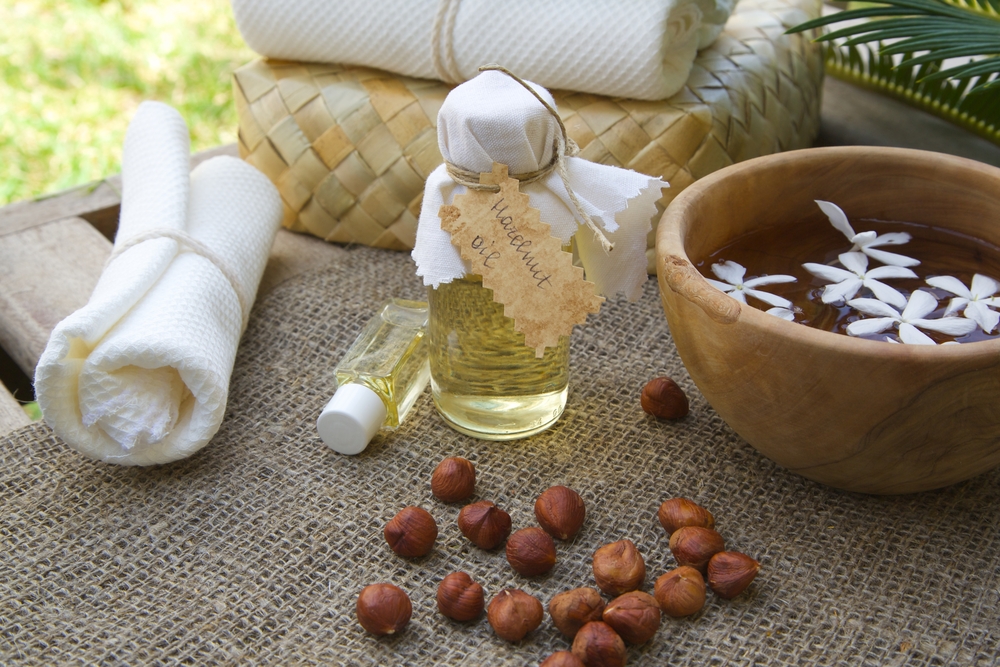 This oil obtained from small hazelnuts only gains popularity when it comes to conditioning. Until now, most of us heard of it in regard to cooking because when added to meals it regulates cholesterol level in the blood, normalizes the blood pressure, and strengthens the bones. It's a true vitamin bomb so it's a pity to not use it in cosmetology – it's a time to get to know the conditioning properties of hazelnut oil which are equally interesting.
The cosmetic use of hazelnut oil
When it comes to the use of hazelnut oil it is mostly used for the skin – not just the face, but also the body. Obviously, you can use it also for hair oil treatment but way often it is chosen for oily and mature skin to restore balance and beauty. However, if you decide to use it for hair care, then it is best for frizzy and damaged hair to regenerate, strengthen, and smooth out.
It is quite a versatile product and proves to be helpful in numerous situations so it can replace many cosmetics used on the daily basis. Where do all its properties come from?
Hazelnut oil – the ingredients
Cold Pressed hazelnut oil (it is best when it's also unrefined because then it is the best for cosmetic purposes) contains plenty of ingredients that are precious when considering their conditioning use:
large amounts of EFAs, essential fatty acids,
slightly less saturated fatty acids, e.g. palmitic acid,
vitamins: A, C, E, D, and B, e.g. panthotenic acid,
minerals: potassium, zinc, phosphorus, iron, calcium, magnesium, etc.
Hazelnut oil – the action
All the ingredients contained in natural hazelnut oil have a direct impact on its action. As a whole, those make this inconspicuous hazelnut oil used in care:
inhibit aging processes,
have an antioxidant impact,
support regeneration,
strengthen the hydrolipid barrier,
retain hydration,
seal blood vessels,
regulate the work of sebaceous glands.
Hazelnut oil in skincare
When used for the skin of the face or body, this oil fulfills the role of emollient – it prevents water loss and strengthens natural protection, e.g. against the sun or harmful free radicals. When used on a regular basis, it improves skin suppleness and lessens redness so skin regains a youthful and beautiful appearance. Hazelnut oil helps eliminate oily skin because it has a positive impact on the work of sebaceous glands responsible for sebum secretion.
However, you should remember to use it in combination with other oils because it can clog pores. If you have combination or oily skin, it will work best with jojoba or hemp oil. When it comes to dry or mature skin, a good companion for hazelnut oil would be popular argan oil. The mix can be enriched with a few drops of essential oil, e.g. lavender or tea tree oil.
Hazelnut oil in hair care
When it comes to the use of hazelnut oil for hair and skin, there is no need to mix it with other oils, but it is recommended if you want to boost the conditioning action of the mix. However, even when used individually for the hair oil treatment, it eliminates frizziness, strengthens, and smoothes out without excess weighing down. You can massage it in the scalp to support weaken hair bulbs or to prevent premature falling out.
The only case when hazelnut oil is not necessarily good for hair is when you have thin hair because it may be too heavy and make hair loose volume even more. That is why in this case, you should also mix it with other oils.