Bourjois specially for the New Year's Eve released eye shadows – Palette Le Smoky. Sparkling colours will help you create an original and beautiful eye make-up. Let's see how you should execute make-up with cosmetics from Bourjois.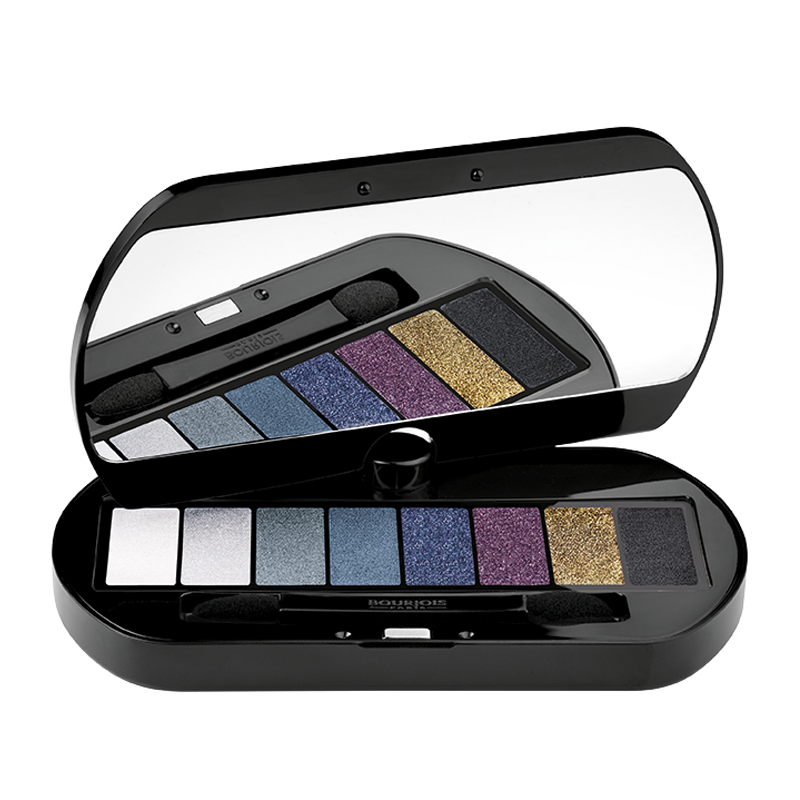 You have not yet seen such an eye shadow palette. Built-in mirror rotates around its own axis. Such solution can surely make it easier to perform make-up, no matter where you are. Moreover, Palette Le Smoky holds double applicator and eight shimmering eye shadows. You can choose out of grey and blue shades as well as white, black, violet and golden. The product ensures beautiful, pearly finish for eye make-up. Beside all this, manufacturer decorated the lid with an illustration by Bernadette Marie Pascua and her autograph.
What is the effect you can achieve with Palette Le Smoky from Bourjois? Eye shadows are highly pigmented, slightly shimmering and extremely long lasting – they stay on the eyelids up to 12 hours. These have creamy – powder texture, so are easy to apply. Bourjois has prepared brief tutorials for girls, where they show how to perform smoky eyes. These make-ups were named as follows: Pearly Grey Smoky, All About Blue and Gold Outer V. You should check them out to find out how you can create make-up that make you look beautiful and elegant.
If your goal is a delicate and natural eye make-up, use three first eye shadows in Palette Le Smoky. Bourjois called it Pearly Grey Smoky. Apply the brightest eye shadow on the entire eyelid and inner eye corners. Light grey shimmering shade administer in the middle of the eyelid. However, external eye corners and eyelash root line cover with the third eye shadow in the palette. Thoroughly blend all the colours; remember, that the lines between colours cannot be visible.
Another smoky eye proposition from Bourjois is All About Blue. This is probably something all the courageous girls, who are regulars at the parties, will want to try. Start with application of the third eye shadow in the palette onto the inner eye corners. In the middle of the eyelid apply brocade, blue shade that in the palette has fifth spot. On the external part of the eyelid apply eye shadow number four and blend them all together.
Gold Outer V is the most colourful eye make-up from Bourjois. The brightest eye shadow in the palette apply in the inner eye corner. The golden shade in Palette Le Smoky place in the middle of the eyelid and the violet – on the external eye corner. Remember to blend all the shades. Complement this smoky eye with black eye liner, mascara and eyebrow make-up.