As soon as the fall comes, we notice our hair is getting worse – frizzy, split, falling out. This is because of the poorer condition of strands and the body suffering from deficiency of nutrients. Can you do anything to reduce seasonal hair loss?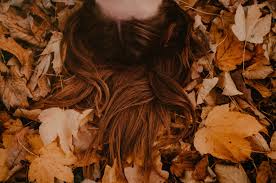 Beauty gripes in the fall are nothing new. After intense summertime the skin and hair are sun-damaged and simply tired. To make things worse, the fall vibe doesn't make them any better: body fatigue, less nutrients in a diet, less vitamin D from the sunlight, poorer immunity.
In turn you struggle with different hair problems that are the most bothersome in the fall: hair loss, static flyaways and frizzy strands, split and brittle ends, dullness and hair looking worse.
How to strengthen hair in the fall?
This question is worth asking whenever you spot the condition of your hair getting worse. See our list of things you can do to enhance your hairdo.
1. Make sure you eat a varied, healthy diet and take supplements.
Most hair problems in the fall flow from deficiency of nutritional ingredients. There are fewer fresh vegetables so our diet is getting poorer. Let's reach out for the veggies and fruits that are available, and provide healthy omega acids with oil, nuts and seeds. You can also help your body and supplement vitamins – this is also a good way to strengthen hair in the fall.
2. Get good nourishing and moisturizing hair-care products.
What happens in your body has an effect on the appearance of hair in the fall but what you apply to your hair matters as well! If your hair is weak and often turns frizzy and splits, it needs all the help it can get. Seek the best masks and conditioners to fix typical problems in the fall.
Keratin-based products are made for damaged and over-processed hair.
Hyaluronic acid and algae-based products work for extremely dry hair.
Liquid silk and oils are suitable for frizzy hair.
"One-size-fits-all" argan oil enhances any other hair type.
3. Use natural hair oils on a regular basis.
Natural vegetable oils – argan oil, coconut oil, almond oil, macadamia oil or grapeseed oil – perfectly strengthen weak hair in the fall. You can choose from the several dozens oils while each one effectively locks in moisture and prevents scalp irritations. The great thing about oils is you can use them in many different ways: on dry or wet hair, just on the ends to secure them, only as a scalp treatment. Use oils solo, mix them or add to a shampoo or other products.
4. Cleanse your hair deeply and gently!
Speaking of shampoos, it's good to seek ones enriched with conditioning substances. Instead of harsh dehydrating SLS shampoos, choose gentle washes that clean the hair not leaving it dry. This is crucial if you use the above-mentioned hair-strengthening tips – a bad shampoo will surely ruin all your efforts.
5. Apply oil or herb-based scalp treatments regularly.
There is one anti-hair loss remedy that beats all others – all substances that you rub into the scalp work much better because they reach the hair follicles (where hair starts growing). By strengthening the follicles you strengthen your hair and keep it from falling out in excess. This sounds simple but we forget about that. What can act as your scalp treatment?
Oils, including castor bean oil, argan nut oil, sweet almond oil.
Herbs, including horsetail, nettle, rosemary.
Vegetables, including blackraddish, kale.