More than 80% of women aren't satisfied with the looks of their hair.

Around 50% try to counteract excessive hair loss.

More than 40% of the human population struggle with dandruff and other scalp disorders.

Almost 90% of women state that they haven't found a satisfying hair product yet.
It's time to change this!
So far you have acted in the dark while buying hair cosmetics, haven't you? You were asking yourself: 'Is the product going to work, or not?' It was like a vicious circle for both your hair and wallet. Improper care and application of mismatching cosmetics damage hair fast. These two factors may significantly weaken hair structure and even lead to hair loss. What's even worse, the strands stop shining and are really hard to style; are far from being manageable. Flat or frizzy hair looks dull, and regeneration… what regeneration?
You have to be aware of the fact that the vast majority of cosmetics don't have the well-thought-out composition and don't work with every hair type. Besides, most products contain damaging silicones and dehydrating alcohols. Woe be unto your hair!
Luckily enough, everything has changed now! Recently, onto the market has been launched a product shedding the new light on the matter of hair care. This cosmetic is Nanoil hair oil. This product, which perfectly fits in for our times, is designed for women who have a high opinion of their looks, time, money and themselves. The product is polished up in every possible aspect; from the exclusive, designer bottle up to carefully selected ingredients that precisely match each of 3 hair types.
Today, we're uncovering for you Nanoil's secrets. Here are the things that will make you fall in love with Nanoil:
Nanoil hair oil knows that there are 3 types of hair porosity
Let's explain this in the following way: have you ever tried to park your car in a wardrobe? Obviously not because this is illogical! The same applies to hair cosmetics. You have to choose the one that matches the type of your hair, and to put it differently, that matches hair porosity. Otherwise, the care you provide your hair with will lose its sense. There are 3 types of hair, so there are 3 types of porosity and… 3 kinds of Nanoil hair oil. Each of them has a different composition that is made from the best natural oils extracted from seeds and nuts. Oils in each of 3 versions of Nanoil ideally blend with the porosity of your hair.
Hair porosity. It's easy! Learn it!
Hair porosity is strictly connected with the condition of your hair as well as with hair's outer structure. The term porosity defines the angle at which outer cuticles, which the hair is made of, are open. The cuticles can look in three ways; it depends on the degree at which hair is damaged. To clarify, cuticles can be closely overlapping one another, be slightly risen up or completely leant back from the hair's surface. Therefore, it can be stated that your hair is defined by its porosity. In other words, it's the porosity that decides what your hair looks like, how it behaves during styling and even of what condition your scalp is. Hence, each of 3 hair types requires a different way of conditioning and other substances to stimulate its growth. Only Nanoil infallibly fits into every hair porosity.
Three types of hair porosity – Check how your hair look like
It's easy to find out which porosity type your hair is. Most women are able to correctly match its type to their strands after reading the very short characteristics:
Low porosity – it's heavy and dense hair, which admittedly is hard to damage, yet it's extremely difficult to take care of it. It's rather difficult for such hair to absorb nourishing substances, it rebels at any styling attempt, the strands are flat and without volume. Scalp tends to be greasy too often. Cuticles of low porosity hair are closely overlapping each other, preventing most of the cosmetics from getting into hair.
Medium porosity hair – it's hair with the tendency to get frizzy, static and, unfortunately, to fall out in great amounts. The scalp is frequently greasy and women of medium porosity hair struggle with dandruff. The hair ends lose water easily and, as a result, start splitting. Hair gradually becomes deprived of gloss and vitality. Improper care can deteriorate hair condition significantly.
High porosity hair – it's hair that has lost its volume and density, is super dehydrated, damaged and dull. It's really hard to replenish it with moisture because it loses water from its surface immediately. Not only falls it out but also it's brittle. The scalp is dehydrated as well, which frequently results in dry dandruff and significant hair bulbs weakening. Halted growth often characterises high porosity hair as its ends are frequently split. This kind of hair gets frizzy easily.
Nanoil hair oil knows what the needs of the particular hair type are.
Each hair porosity requires a different kind of care and various substances delivered directly to the hair's inner structures. Nanoil hair oil is designed in such a way to fit into a particular hair porosity type and to provide it with the kind of care that is needed. Moreover, the oil won't only condition hair shafts but also the scalp and hair bulbs. You can be sure that your hair will receive not only nourishment but also deep regeneration. Nanoil hair oil works where a shampoo, a hair balm and a hair mask are powerless.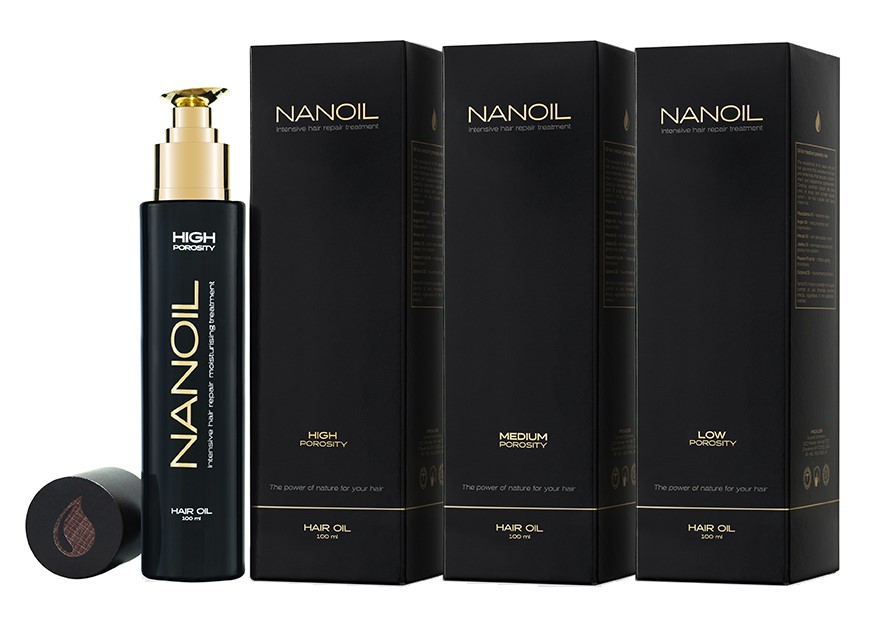 Nanoil for low porosity hair
Only tiny particles of properly balanced natural oils that compose Nanoil are able to get inside the inner structures of hair of low porosity. In this version of Nanoil, the significant part of ingredients is prevailed by saturated fatty acids. They are able to nourish low porosity hair without weighing it down. Moreover, saturated fatty acids work as a kind of a shield protecting hair against urban pollution. Nanoil for low porosity hair eases styling and increases volume leaving hair soft and glossy.
Thanks to particles of semi-drying features included in oils from omega-7 and omega-9 group, Nanoil is able to take care of medium porosity hair. The beauty product regenerates scalp, counteracts hair loss, provides strands with density and shine, and halts hair ageing processes. This is the only such an oil to deliver complex regeneration, protection, nourishment and beautiful look. Thanks to Nanoil, medium porosity hair gains the proper level of moisture, is smooth and shiny, stops falling out, and is protected against the adverse influence of the environmental factors.
Nanoil for high porosity hair
This is the one-of-the-kind product that poses a solution for all the problems that high porosity hair is haunted by. Big particles of Nanoil are there delivered by fatty acids belonging to omega-3 and omega-6 group. Selected oils don't only nourish hair from the outside but also provide it with constant moisture to prevent dehydration. Moreover, the fatty acids also create a hygroscopic coat that shields each hair against the mechanical damages. Hair gains flexibility and vitality, becomes beautiful again and stops breaking.
Nanoil hair oil delivers specialistic care
Each version of Nanoil, despite the blends of perfectly selected oils aiming at the particular hair type, contains UV filter and the range of active substances that regenerate hair bulbs and accelerate hair growth. Nanoil hair oil also includes vitamins, proteins and silk particles that are crucial for hair to grow healthy, strong and beautiful. Stunning with shine, dense hair that stops falling out – finally this is possible!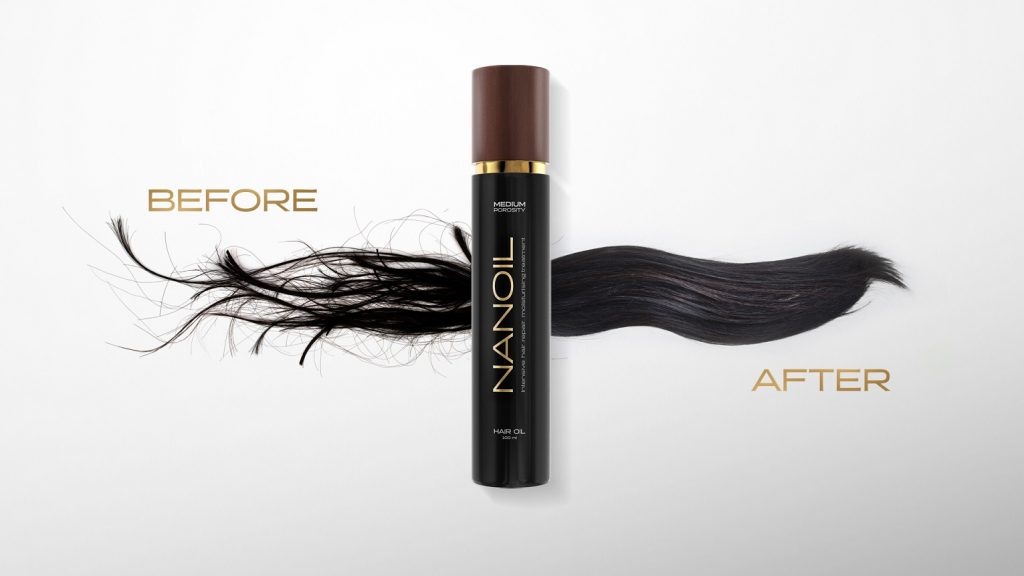 Nanoil hair oil as the only one to regenerate hair. Deeply!
This is the only oil which makes it possible to fulfil the dream of having beautiful and healthy hair. It'll not only provide hair with flexibility, shine and softness, but also it'll start the battle for regeneration of the most crucial hair part, namely the hair bulbs. You have to be aware of the fact that without a healthy hair bulb there is no healthy hair. Therefore, by applying Nanoil, our hair receives total care: hair becomes healthier from the bulbs to the hair ends.
Nanoil hair oil nourishes and cures the scalp. Thoroughly!
Healthy hair equals healthy scalp. In fact, the scalp can be compared to fertile soil. Nanoil hair oil regulates processes that take place on scalp's surface. As a consequence, hair is provided with perfect conditions to grow healthy. Thanks to Nanoil, the level of sebum is balanced which makes the end of the problems connected with the greasy scalp and end of embarrassing dandruff. Instead, the scalp is replenished with water.
Nanoil hair oil beautifies hair in the nick of time!
This makeover of hair look can be seen almost immediately. Just after the first application, Nanoil hair oil lets strands regain lost flexibility, softness and shine. Strands win vitality and become soft to the touch. Hair is no longer flat, yet full of volume and lightness, it doesn't lose water from the inside, so it is no longer rough nor brittle. Hair amazes with its beauty. Such strands give you charm and bring back self-confidence.
Hair looking the same as manes of models you see on the TV screens? Let Nanoil amaze you! Thanks to this beauty product, what was once impossible have finally become achievable!