Carry on my wayward… sister.
Your pulse is about to speed up.
This is something all your friends will be jealous about.
These are cosmetics only for few.
Not everyone will understand their value.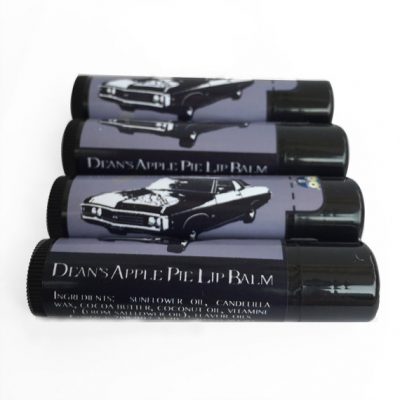 Therefore, if you are not the Supernatural fan – leave this site immediately.
However, if you think that Chervolet Impala '67 is the best car in the World and you always carry some salt, holy water and borax with you – stay and check out with what the Internet drugstores can surprise you with.
We have something special for you.
On the etsy.com are available lip balms and perfumes inspired by Supernatural. You can choose out of several lip balms, each in different shade and scent, and believe us, you'll love it. Among many there are:
"Sam's Favorite Demon Blood" (lip balm with a demon trap).
"Dean's Favorite Apple Pie" with famous beloved Dean's car.
"Angels & Demons" – lip balm with surprising combination of vanilla and chocolate with a spice.
"Demon Bomb" – lip balm with Black Licorice Scent.
"Castiel's … (as you probably guessed) Peanut Butter & Jelly"
Each lip balm has different taste and colour, but also vegan friendly ingredients. As we can find it on the website all products contain "No chemicals or products you need to be a wizard to pronounce. "
It is worth to add that beside effective packagings and tastes matching Supernatural characters, these lip balms are long lasting, efficient and smell beautifully.
Nice surprise is that you can buy them individually or in a set with a key ring – surprise.
Yet another surprise are perfumes with 10 ml volume (fitting in every handbag!), and with a label that presents the iconic Chevrolet Impala '67. The perfumes smell like Dean's favourite apple pie and are probably meant to be a bait for him… so do not hesitate and make your skin smell like apples with cinnamon and coconut oil. Similarly to the lip balms – perfumes are free of chemical and allergy triggering substances.
These iconic cosmetics inspired by Supernatural can be also great present idea for your friend. You can test them together!