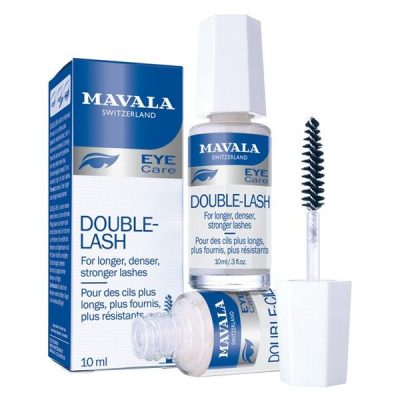 Mavala double lash is a growth serum that comes in the form of on oil. It makes eyelashes longer, fuller and stronger. It has been developed under the supervision of the Swiss experts. It accelerates lash growth after 10 days of regular use. The formula rich in vitamins and protein, enhances eyelashes, which improves their length and provide volume. Unfortunately, opinions that can be found online do not confirm such results. Mavala Double Lash growth serum is a good nourishing and conditioning agent, but it will not work on the weakened (for example due to eyelash extensions) and very thin lashes.
This is the largest eyelash growth serum available on the market. The plastic bottle has a capacity of 10 ml and comes with a brush. The packaging is maintained in white and blue colours, strongly resembling eye drops. This is far from the standards that are represented by other products. The assumption of Mavala Double Lash growth serum was to probably evoke safe pharmaceutical products.
Mavala Double Lash growth serum does not have a typical thin applicator but a wide brush with bristles. This transparent product is to be applied to the lashes the same way you apply mascara. Remeber to do it every day before going to bed to thoroughly cleansed eyelashes. Serum can also be used as a base for mascara. The cosmetic is not toxic, but may cause stinging in the eyes or eye area. It is said that Mavala Double Lash growth serum does not stick lashes, unfortunately, this information is far from the truth.
What does affect this evaluation negatively?
Resembles eye drops rather than a cosmetic.
Reviews do not confirm one hundred percent efficiency.
The applicator in the form of a wide brush does not reach to the base of the eyelashes.
It can stick eyelashes and cause discomfort.