The cream stands out among other balms and body oils. Its characteristic composition astounds the consumers with a rich, velvety formula that doesn't leave a greasy layer on the skin. The cosmetic is formulated with Maltese honey, plant extracts, and oils that make it an excellent skincare product. You will notice the effects of Maltese Honey Body Cream from the first use! Learn about the luxurious Ghasel cosmetic that brings the best results in a heartbeat.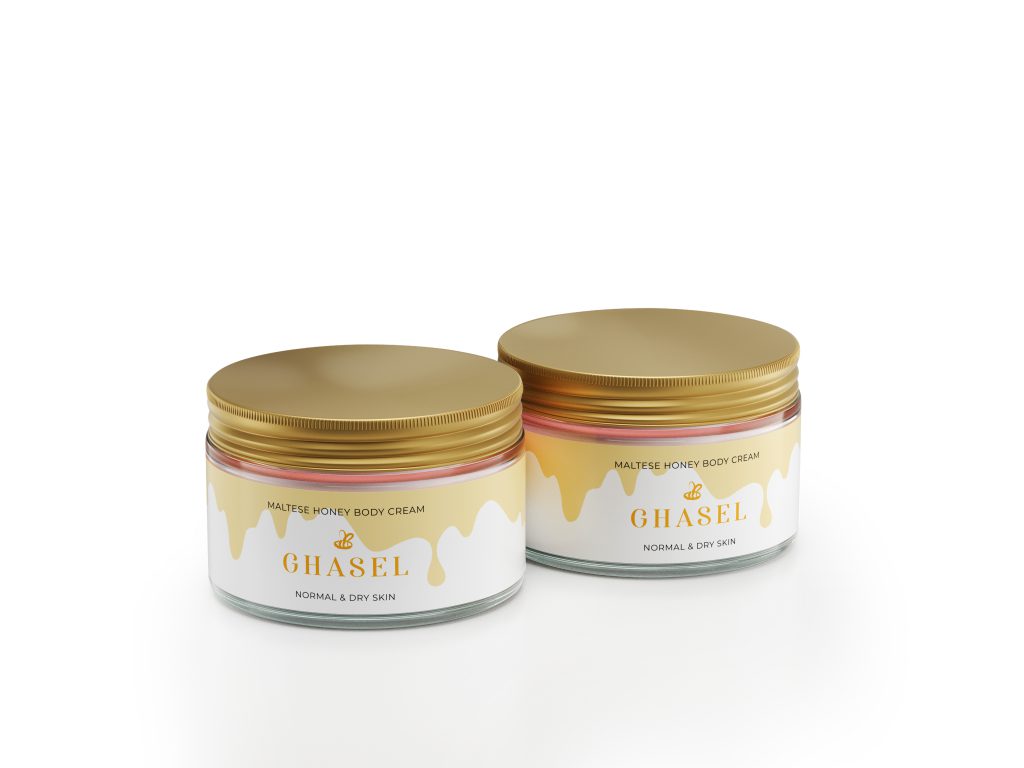 Maltese Honey Body Cream and its reviews
The Ghasel cream gains enormous popularity because of its anti-aging properties. It has a strong reputation, gained a lot of positive feedback, and continues to take a high position in blog ratings. The product is enthusiastically recommended by women all the time. Well, wonderful and pure Maltese honey as well as specially-selected ingredients deserve all the credit. Check out why it's worth the hype!
What can you find in Maltese Honey Body Cream?
The effectiveness of the Ghasel cosmetic is the result of perfectly-composed substances that mix well together:
★ Maltese honey – pure ingredient, high in its content of thyme pollen. With its excellent caring properties, it supports healing acne and skin lesions. This sweet component also has antibacterial and anti-inflammatory effects, hydrating the skin intensely and minimizing the risk of the formation of scars. It's a valuable ingredient in the care of not only dry and acne-prone skin but every skin type.
★ Shea butter – a regenerating velvety butter with anti-aging qualities. It inhibits skin aging and wrinkle formation, leaving the skin incredibly smooth and firm.
★ Avocado oil – best for dry, dehydrated skin lacking elasticity. The oil is a great source of vitamins and minerals that protect the skin against over-drying.
★ Horse chestnut seed extract – in the composition of horse chestnut extract you will find valuable, rejuvenating flavonoids, mineral salts, coumarin, and vitamins. It's known for its abilities to strengthen blood vessels, reduce swelling and eliminate cellulite.
★ Calendula extract – regenerates and moisturizes, it's also great additional protection for dry skin.
★ Marshmallow plant extract – not only does it soothe the skin and inhibit irritation, but it also evens its tone, leaving it smooth and flexible.
★ Vitamin E – an antioxidant that neutralizes free radicals.
★ Vitamin B12 – next to vitamin E it's one of the most valuable vitamins in skin-care products: it smooths wrinkles and furrows as well as nourishes and smoothes the body.
Wyświetl ten post na Instagramie
Ghasel Maltese Honey Body Cream – its pros and effects
A cosmetic this effective with powerful caring properties will surely improve your mood for the day! How does it work and what are the benefits of using it?
long-lasting, 24-hour hydration,
no preservatives, silicones, GMOs, or artificial ingredients,
leaves the skin soft, firm, and flexible,
velvety formula that doesn't leave a greasy layer on the skin or clothes,
maximum comfort of use,
delicate, subtle scent free from artificial fragrance ingredients,
regenerated skin and protection from free radicals
Did you know…

…Maltese Honey Body Cream not the only product in the Ghasel honey line? The brand's skin-care products intended for the body and face offer what's best for your skin. They're full of vitamins, minerals, essential fat acids, antioxidants, and plant sterols. The composition of the cosmetics is composed of ingredients important for the proper functioning of the skin. Go to ghasel.mt and treat your skin to the sweetest skin care out there!