Blow-drying and heat styling can be either a nightmare or pleasure – it depends on a primer we choose. If you don't want stiff and dry hair after styling, try the new from Nanoil: a fantastic priming spray for hair! Keep scrolling for 5 reasons why you're not going to trade it for a different one ever!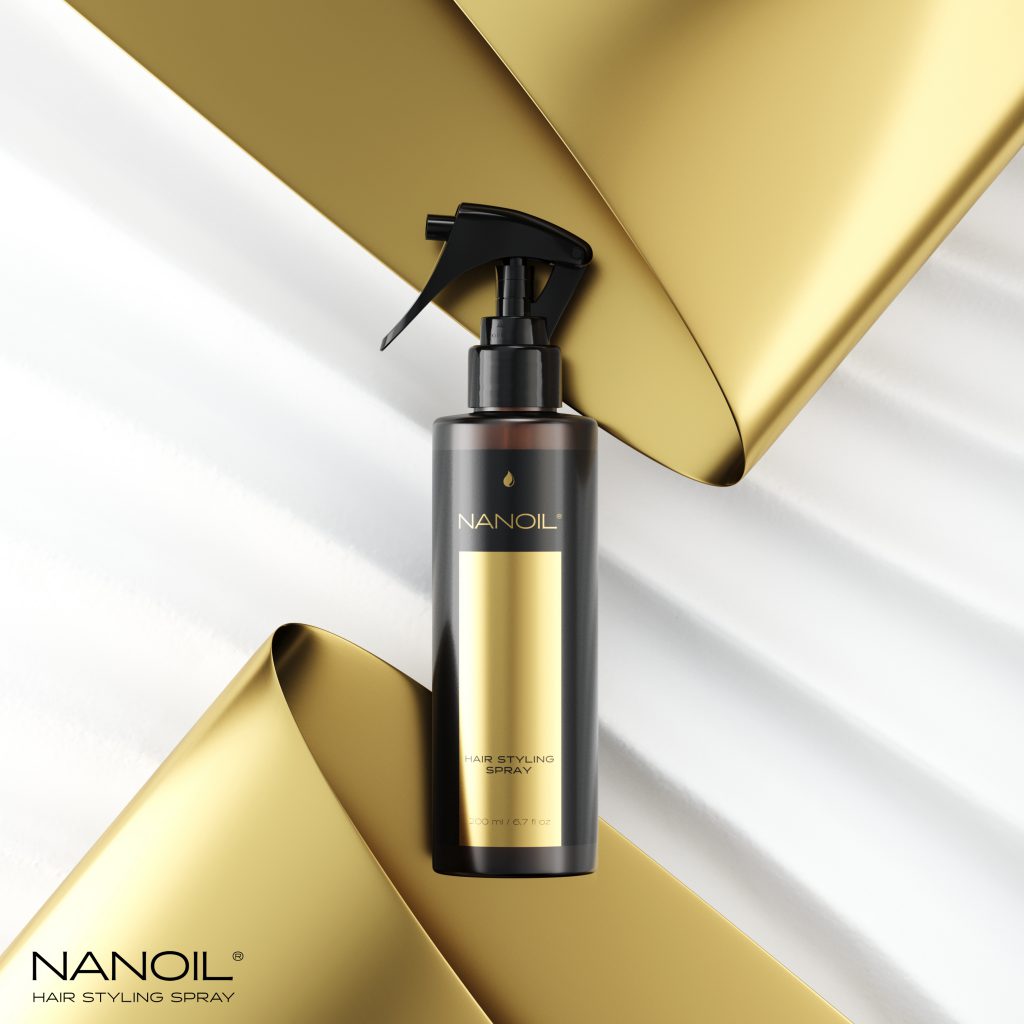 1. IT IS A FANTASTIC STYLING PRIMER
You want to style like a pro? Go ahead! Getting a gorgeous hairstyle in a couple of minutes! Here you go! Spray Nanoil's primer on your locks and start creating the most sophisticated updos, curls, braids, etc. This styling spray will be your most powerful ally when fighting for the most fabulous hairdo. It leaves hair feeling soft and more manageable so you'll take control of it even if your locks are crazy hard to style…
2. IT HAS SUPER HOLD
Getting an amazing hairdo is one thing – making it last for many hours is equally important. If you're afraid your locks will rebel and you're going to end up looking bad – use Nanoil's primer as a hairspray. Spray it on styled hair, letting the mild mist keep it lovely.
3. IT HAS A DEEPLY-NOURISHING EFFECT ON HAIR
It is a unique styling primer because of the nutrients in the formula! Panthenol maintains hydration and gloss, protecting from dryness and breakage while castor oil protects the hair color, prevents splitting and strengthens. It's a perfectly suited combo which also has a beautifying effect! Locks are shiny, resilient and smooth.
4. IT WILL MAKE ANY HAIR LOOK ITS BEST
Nanoil Hair Styling Spray not only preps hair for styling and has super hold but also improves the appearance of any hair making it shiny, soft and natural-looking. You don't need to worry about stiff strands that can't be brushed at the end of the day!
5. IT EFFECTIVELY PROTECTS FROM DAMAGE
If you want beautiful, healthy, strong hair, it also needs protection from the external aggressors. That's why Nanoil Hair Styling Spray nourishes but also protects so hair can maintain perfect condition.
Nanoil Hair Styling Spray – Application
Hairstyling routine has never been so easy! You're just two steps away from a flawless hairdo.
Step 1: Spray Nanoil's primer on washed, wet hair or dry hair for hold. Spritzing it a few times, holding the bottle around 8 inches away from the head, is all it takes. You don't need to rub or massage the product in.
Step 2: Style the hair as you usually do. Use a hairdryer, curler or occasionally a flat iron.
Where to buy Nanoil Hair Styling Spray and how much is it?
Like all products from Nanoil, this styling primer is available online – quick and easy shopping at home! Visit the brand's official store on www.nanoil.us and see terrific items for your face, body and hair. They're easy on the pocket – super effective and top quality at the same time! Check them out now and enjoy using the best beauty items!